Back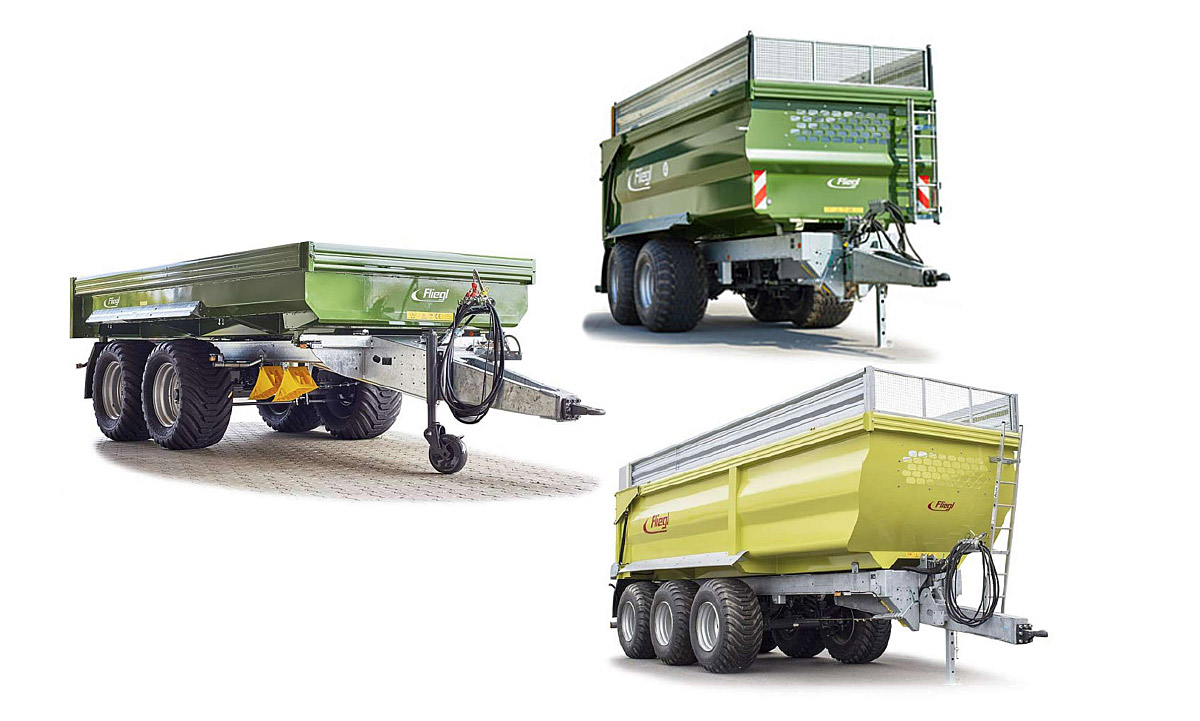 EACH AND EVERY FLIEGL DUMPER EMBODIES THE FULL EXPERTISE OF FLIEGL COMMERCIAL VEHICLE PRODUCTION
Be it a single-axle, tandem or tridem body: The tippers easily handle even the heaviest loads. The body features a conical shape and smooth surface to ensure complete emptying. With their galvanised hollow section frames, extra-large corner stanchions and heavy-duty underride guard with lighting protection, Fliegl dumpers serve as sophisticated and highly robust solutions.
For the most demanding applications, Fliegl offers the heavy-duty TMK. In this machine, extra tough materials and robust components are used to optimum effect.
Durable and robust

Sturdy, galvanised hollow section frame
Powder-coated side walls
Bridge made from highly wear-resistant steel
High-quality materials
Constructed in Mühldorf

Utmost flexibilit

Available with side panel extensions
Different assemblies available
Diverse equipment options
Grain hatch standard on almost all models
Maximum stability

Low centre of gravity
Extra-wide track thanks to unique Fliegl wide-track chassis
Compact design

Simple practicality

High tipping angle
Extremely manoeuvrable
Low net weight
Conical body for complete emptying
Standard Titan assembly for optimum ground adaptation (up to 30 cm)
Heavy-duty underride guard with lighting protection
OPERATING PRINCIPLE OF A DUMPER
---
The compact dumpers offer high capacities and only require a low tipping height for unloading. The generous load capacity is enabled, among other things, by the 800 mm depth of the high-capacity rear panel and the angled bulkhead. This offers greater volume with an unchanged frame length. The short chassis makes the trailers highly manoeuvrable. The body's bulkhead is also angled, and the depth of the high-capacity rear panel measures 300 mm here. For maximum visibility in the loading area, all Fliegl Profi tippers feature an extra- large viewing window in the bulkhead.
A 500 mm lateral folding attachment can be ordered for the Fliegl dumpers. It increases the capacity of the body when erected and facilitates the loading process when folded down. In the latter case, it is fixed to the outside of the body so that it does not block the opening of the hydraulic rear panel. Other options include a folding front inspection grille, which is particularly useful during chopping, when the harvested crops are thrown from the front over the tractor and into the tipper trailer.