Back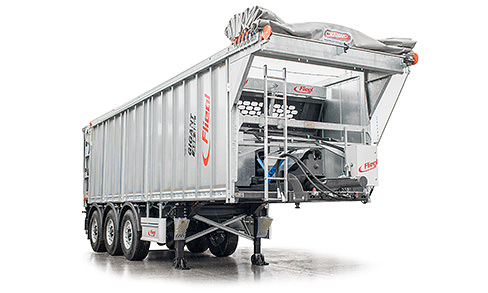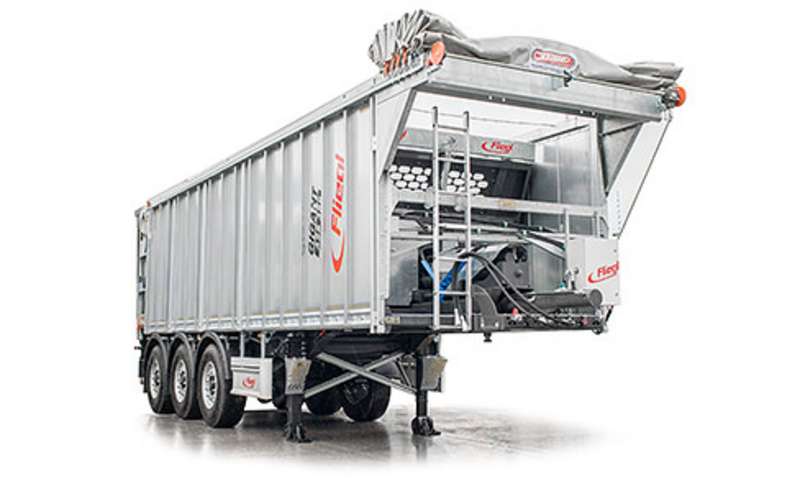 In aluminium or steel.
The Fliegl push-off semi-trailers transport large-volume and heavy goods and load them in seconds. Whether it's wood chips, pellets or grain, the push-off technology ensures a smooth and complete emptying.
During the unloading process, the push-off offers excellent stability.
Available in two-axle and three-axle versions

Designed in lengths of 7,800 - 12,300 mm

Optionally with starting aid, Lift axle or steering axle
Available as 60/80 and 100 km/h version

Capacity up to approx. 67 m³

Optionally as an aluminium version
LIGHT AND POWERFUL: NEW FLIEGL ALUMINUM PUSH-OFF SEMI TRAILER VERSION INCREASES TRANSPORT EFFICIENCY
Agricultural logistics is becoming increasingly complex. Ever heavier goods have to be transported over more and more ways in ever shorter time. This only works with highly efficient vehicles that combine universality and performance.
That's the idea. The Fliegl semi trailer with push-off technology is the realisation of the idea. In a new aluminium version, it raises the ratio of net weight to payload and overall transport efficiency to a new level.
The Fliegl push-off technology alone increases the transport efficiency. It is even further enhanced by the new lighter construction: in the aluminium version, Fliegl semi trailers achieve enormous weight savings. For comparison: While a Fliegl push-off trailer with 70 m³ loading volume weighs about 10,700 kg and a Fliegl steel push-off semi trailer with 60 m³ load volume comes to 9,900 kg, the unladen weight of the aluminium version with the same volume (60 m³) is just 7,900 kg.
The lighter material means two tons less weight during empty runs and more payload when loaded.
The fuel consumption also decreases. The entire frame is weight-optimised. The chassis made of high-strength fine-grained steel and the aluminium superstructure are connected to each other via a special frame and bridge construction and integrated into one another - the design ensures maximum stability combined with the lowest possible weight.
After the steel trough version, the aluminium version of the push-off semi-trailer is the next step; it extends the Fliegl range of street versions with a light, modern and elegant solution.
Fliegl push-off semi trailers can be configured precisely to fit their purpose. They come in two-axle and three-axle variants. The total lengths measure 8,80 m, 9,80 m and 10,80 m. In the basic version, Fliegl push-off semi trailers weigh just 6.7 tonnes. Depending on the design, the payload reaches about 28 tons; the capacity up to 70 m³.
Air suspension, the 80 km/h version, EBS and grain hatch are standard equipment. Optionally, the semi trailers can be equipped with lift and steering axle push-off technology