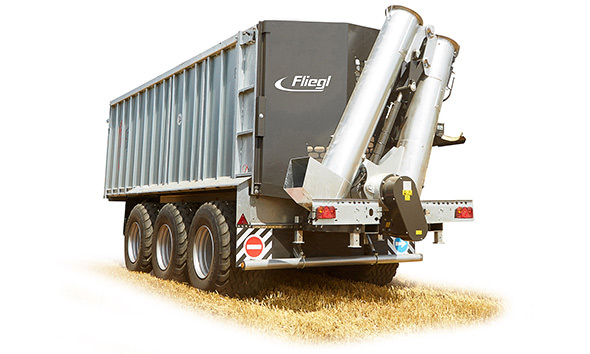 FLIEGL OVERLOADING AUGERS
The speed and efficiency of combined transport solutions is largely dictated by the transfer process. To this end, Fliegl push-off trailers can be easily converted or retrofitted with a wide range of technologies. This is particularly advantageous for broad-based businesses and contractors.
"Time is money," said Benjamin Franklin in 1748, and this also applies in the world of grain transport. The shorter the stationary periods of the combine harvester, the less money is lost. Fliegl overloading augers designed specifically for grain represent the perfect solution in this case. The combination of push-off trailer and overloading auger allows the grain to be stored in a bunker until a transport vehicle is ready for transfer. With a Fliegl overloading auger, harvester utilisation is thus increased significantly. Fliegl offers two varieties of these transfer experts in the form of the ÜLS 400 and ÜLS 500.