Back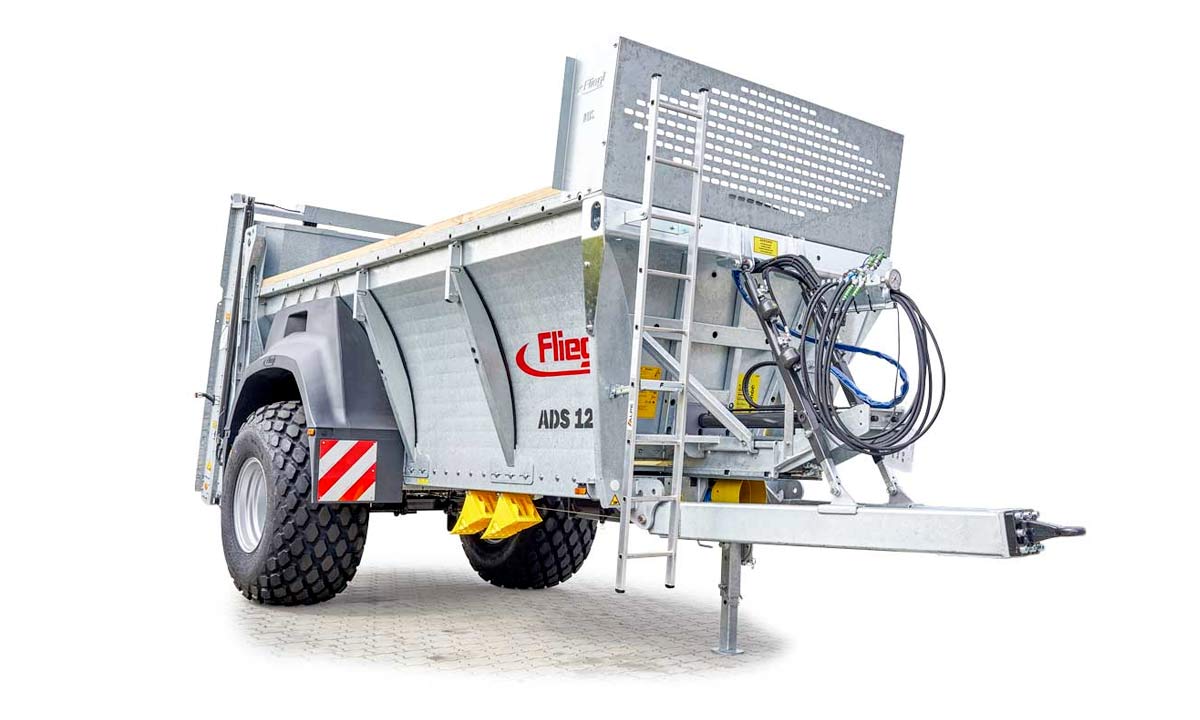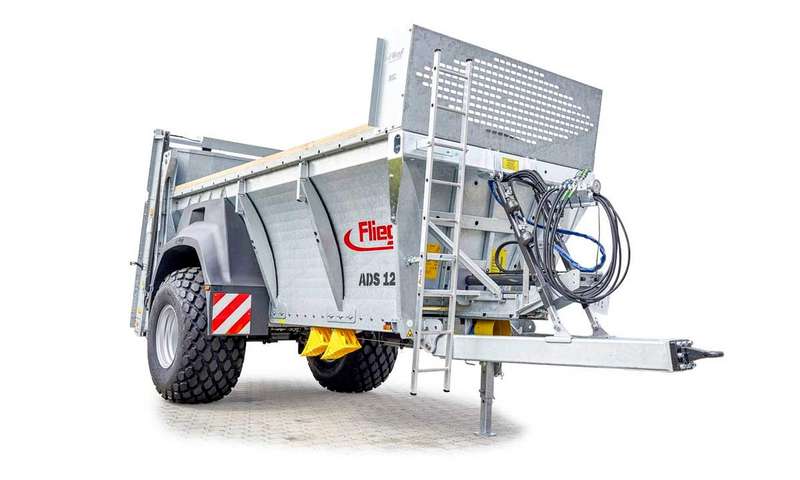 Fliegl's ADS push-off manure spreader combines the patented Fliegl push-off technology with powerful spreader mechanisms for solid manure application. It works precisely, is low maintenance and durable. Even on steep terrain, the ADS travels and distributes safely - thanks to its low centre of gravity and wide track. A hydraulic drawbar suspension ensures maximum travel comfort (from ADS 100). Mud guards are included in the 40 km/h version.
There are five single-axle trailers (6, 8, 10,12 or 14 tonne gross vehicle weight) and two two-axle trailer with 16 or 20 tonnes gross vehicle weight. The volumes of their steel troughs vary between 6 and 19 cubic meters.
THE MAIN ADVANTAGES OF THE ADS AT A GLANCE
Fliegl's hydraulic sliding system is constructed without sensitive components for minimal wear and tear. The material feeds it evenly to the spreader mechanism and completely empties the trough - including the floor.
High stability - low centre of gravity

No sensitive wear parts compared with a scraper floor

Optimum solid manure application with maximum spreading width (approx. 12 m)
Solid manure spreading with patented push-off technology

Spreading pattern adjustable via hydraulic drawbar tilt cylinder (from ADS 100)
Robust spreader mechanism with 12 m working width
Hydraulic sliding gate
Mechanical feed control in series.
Optional: feed control by electric potentiometer or Vario Sens Light ISOBUS electronic regulating and control system (from ADS 100)
Slinger
The basic ADS 60 is equipped with four stationary rollers, all other types with the robust Profi V2 spreader mechanism or the low mounted variant V2n (ADS 80 and ADS 100). On the V2 a fully galvanised push bar is standard; the spreader mechanism bearings are easy to maintain via a central lubrication bar. The smooth-running swing thrower operates gently and is low-maintenance. Foreign objects do not damage it.
The German Agricultural Society has awarded the ADS 120 with professional spreader mechanism the DLG test mark for its stable manure distribution quality. In the test, very good distribution qualities were achieved both for the application of 10 t/ha and 30 t/ha. In the transverse and longitudinal distribution, the calculated coefficients of variation are below 15%. At 67%, the extension within the tolerance zone with manual control via the potentiometer is at a high level, but can be increased by the automatic control with Fliegl VarioSens to almost 90%.