Back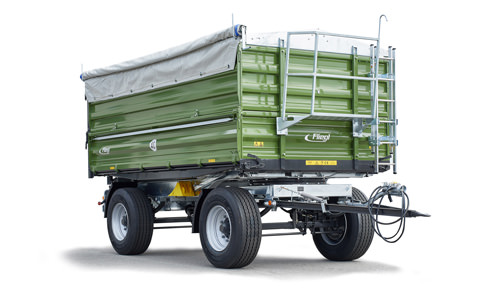 TWO-AXLE THREE-WAY TIPPER
WITH TOTAL WEIGHT FROM 6 TO 18 T
Fliegl two-axle three-way tippers are transport professionals with a strong hub. The weight-optimised two-axle trucks with a total weight of 6 to 18 tonnes also handle heavy payloads. Their sturdy steel bridge is sandblasted, dip primed and coated with two-component paint. The galvanised, continuously shaped frame is made of high-strength fine-grained steel joined in welded construction. With their heavy suspension, sturdy truck turntable and large chassis, Fliegl two-axle three-way tippers can handle high loads and rough operations.
Bridge with high-grade steel – sandblasted, dipcoat primed with two-component coating

Galvanised, continuously formed frame, made with high-quality fine-grained steel (welded structure)

Heavy-duty suspension
Heavy-duty, truck type slewing ring

Galvanised frame optional

Weight optimised for more payload
Simply flexible loading
The new Fliegl "Multiplex" two-axle three-way tipper
The new Fliegl DK 180-88 Multiplex belongs to the family of two-axle three-way tippers and, thanks to its special design, is particularly suitable for the transport of potatoes, turnips etc. and pallets. Lateral loading of pallets, boxes and lattice boxes with a forklift is easy as there is no middle stanchion or left-hand portal door, which can also be opened via the central locking system.
The frame of the two-axle three-way tipper is made of high-quality galvanized steel, the side panels of specially sealed multiplex panels, which saves weight, allowing more to be transported. Even in the cold winter months, transporting potatoes, beets etc. is no longer a problem, because the special multiplex plates ensure that the load does not freeze on the side panels. Even bulk goods such as grain and corn can still be transported without any problems, because thanks to wear-resistant rubber seals, no cargo is lost.