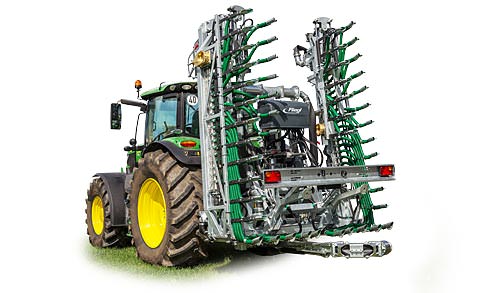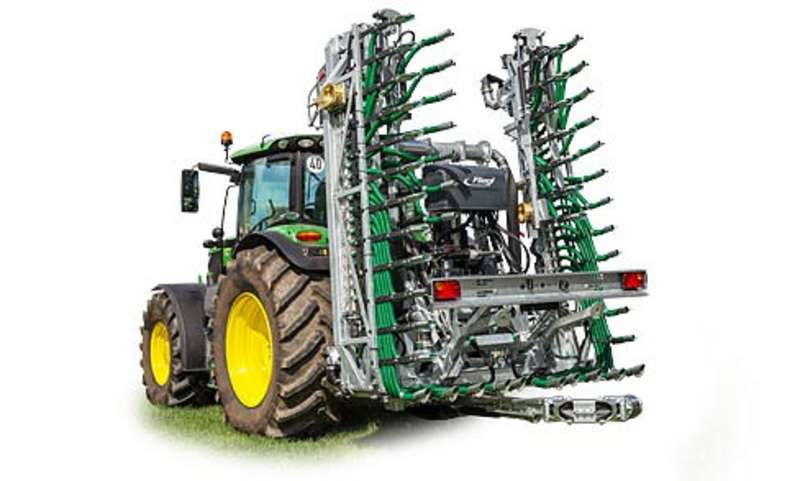 Snake trailing shoe spreader
Suitable for liquid manure hoses or self-propelled
Fliegl Agrartechnik not only manufactures drag shoe distributors for liquid manure barrels, but also offers practical distribution technology for liquid manure hoses. The slurry hose system, together with the Fiegl Snake, is superior to other technologies, especially on boggy and damp surfaces or on steep slopes, provided that the slurry logistics are consistent with the spreading rate. In addition, the soil is largely protected and heavy compaction is avoided, which has a predominantly positive effect on earnings development. In addition to the use in tubing technology, the Fliegl Snake can also be ideally attached to slurry tankers thanks to its ingenious folding mechanism, regardless of the tank size / width!
Working widths 8.50 / 12.00 / 15.00 m

Package-type folding ensures extremely compact transport dimensions with 2.60 m width and max. 3.80 m height

Equipped with the proven Fliegl screw distributor

Drip-stop at the headland via hydraulic fold-up

The Fliegl SNAKE is the perfect solution in combination with a slurry automated vehicle
The Fliegl Flow Control Digital flow meter can be used to ensure an even slurry application

Robust draw tube with sophisticated centring technology

Smooth turning process possible due to high swivel range of the draw tube

Low maintenance
The hydraulically swivelling draw tube is the heart of the slurry hosing. Allows exact guiding of the slurry hose and ensures comfortable turning at the headland
How it works: At the headland the application hoses are folded up (drip stop). After that, the draw tube is relieved and can be turned together with the hose over 220 degrees to turn it over. After the tractor is back in the appropriate working position, the draw tube is tensioned and centred via two equally long chains. The driver then lowers the delivery hoses and can continue with the application in the new lane.
A special safety mechanism prevents a collision between the draw tube and the trailing shoe springs.
Control: The Snake comes as standard with a Hydraulic control block. All functions are operated via a control panel with toggle switches.
The Fliegl SNAKE can be attached to the hydraulics directly behind the tractor or automated vehicle. Especially with self-propelled slurry spreader tanks the folding mechanism plays a very important role, since the tank bodies are often very wide.
Here, the Fliegl SNAKE offers the perfect solution due to its flexibility and independence.
With its smart design with a transport width of 2.60 m and a max. transport height of 3.80 m, you travel safely on the road.