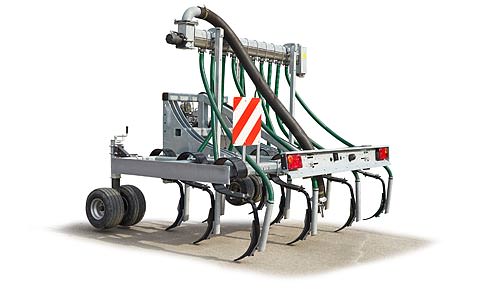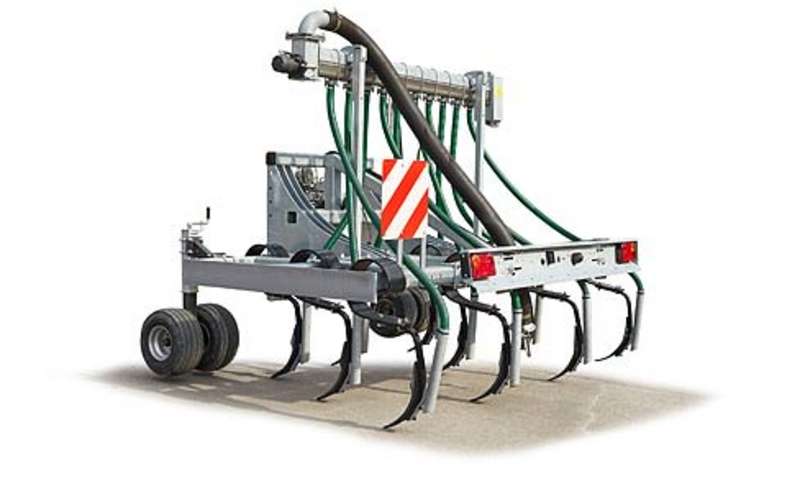 FLIEGL "GUG" SLURRY CULTIVATOR
Slurry incorporation with deep soil loosening
The Fliegl GUG slurry cultivator is the ideal combination of powerful soil cultivation and targeted slurry incorporation in a single operation. The sprung double herringbones perfectly loosen and mix your floor. Thanks to the extensive injection of slurry, nutrient losses and odour emissions are reduced to a minimum. Existing soil compaction breaks the three-pronged GUG easily; while working depths of up to 20 cm can be achieved. Height-adjustable support wheels ensure optimum depth guidance and a precise working pattern. With the GUG, too, the Fliegl screw distributor guarantees high discharge accuracy. The Fliegl screw distributor also ensures an exact and uniform slurry distribution.
Can be used on all types of soil

Loosening, mixing, slurry, levelling in one operation

Adjustable feeler wheels for optimum depth guidance

Working depths range from 8 to 20 cm
Complete incorporation of the applied slurry

Equipped with the proven Fliegl screw distributor

High operational safety with changing soil conditions

Excellent ground entry with sprung double heart blade
Sturdy, galvanised frame

Optimal for stony soils with sprung double heart blade

Low maintenance
The soil is loosened and opened by the massive double-heart blades - the slurry flows into the resulting furrow and is then covered by soil. Thanks to the robust design working depths of up to 20 cm can be achieved without problems. Even high proportions of straw during stubble cultivation are no obstacle for the GUG, which is due mainly to the large beam spacing of about 700 mm.
A line spacing of 300 mm ensures a good mixture of the soil. The Fliegl slurry cultivator can be purchased in working widths of 3m, 6m or 8m. Using spring-loaded tines, the GUG masters the use of stony ground conditions confidently.