Zurück
ASS AGROTRUCK PUSH-OFF SEMI-TRAILER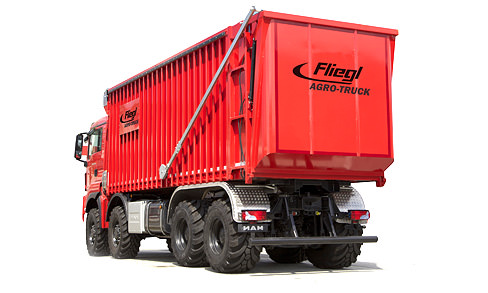 The truck is the undisputed transport king on Germany's roads. However, due to unsuitable standard tyres and insufficient ground clearance, it was long unsuitable for on-field use, thus restricting its potential applications to agricultural road transports. With goods having to be conveyed from the field to the truck, the latter would remain unused for extended periods. To tackle this problem, more and more manufacturers are producing vehicles known as "agro trucks". These are trucks which offer the all-important field compatibility. The agro trucks are thus equally well at home both on the field and on the road, and they can be licensed as towing vehicles for agricultural or forestry applications in Germany. Given the unquestionable benefits of this concept, Fliegl Agrartechnik now offers suitable swap bodies and semi-trailers for these agro trucks.

Compared to tractors, trucks boast lower diesel consumption, a better price/performance ratio and greater comfort when travelling on roads. Most importantly, however, trucks can achieve much higher speeds. Their maximum speed of 80 km/h allows the agro trucks to travel both on dual carriageways and on motorways. Agro trucks are also able to deliver constant performance levels at high speeds. And none of this is to the detriment of the standard equipment levels familiar from tractors. By way of example, a number of agro trucks are now available with optional load-sensing hydraulics. Agro trucks also impress with their flexibility: Not only do they offer reliable performance during the main season, but they also prove highly effective for winter snow-clearing work in combination with salt-spreading attachments.

The ASS 298 Agro-Truck and ASS 298 Agro-Truck GreenTec are highly professional solutions. The GreenTec version is weight-optimised thanks to its aluminium body. Both push-off semi-trailers offer a number of special features, including a higher standard coupling height of 1.4 m (with 1.6 m available as an option) and 26.5" agricultural tyres. These features make a significant contribution to the improved field compatibility, allowing the trailers to be equally adept on both road and field. The innovative agricultural semi-trailers from Fliegl serve as invaluable aids for transporting agricultural goods and deliver convincing performance in every respect.