Back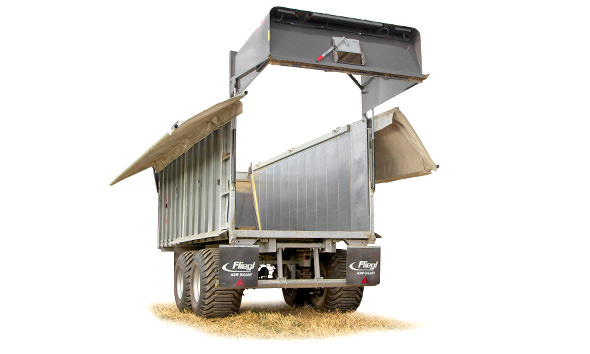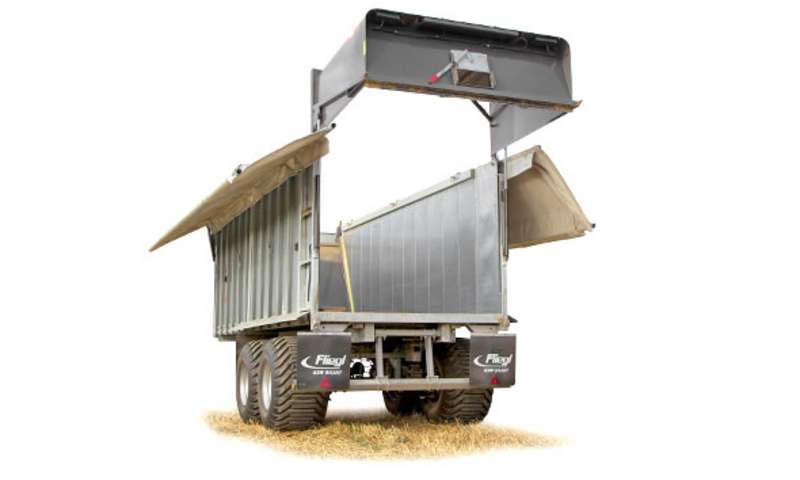 Fliegl TopLift is a two-part, hydraulically controlled roof system. The centrally divided lifting roof reliably protects your load from moisture, dirt and damage during transport. Fliegl TopLift can be opened and closed on both sides within a very short time, also saving time while driving. The strong fabric tarpaulin is tear-resistant and robust.
The two roof halves overlap to provide complete rain protection. When the lifting roof is folded down, trailers can be loaded and closed unhindered even with a high material cone. Highly dumped cargo is simply "under the roof" due to the high swing angle of the roof halves.
Unloading with an open lifting roof is just as easy. Thanks to its sturdy roof construction and reinforced riveted fabric tarpaulins, Fliegl TopLift is suitable for lengths of up to 12 m. Fliegl TopLift - the flexible load restraint mechanism!
Transport trailers can be effortlessly loaded with the roof tilted with a high material cone

Unlike transporters with sliding tarpaulins, the overfilled load can simply be "covered" by the high tilt angle of the roof halves. The excess load does not have to be laboriously removed by hand in order to be able to pull the sliding tarpaulins over the length of the trailer

The lifting roof consists of a solid steel girder substructure and a strong, tear-resistant fabric tarpaulin with a long service life

The two halves overlap with 15 cm to provide complete rain protection. Lengths of up to 12 m are available, thanks to the stable, longitudinally divided roof construction and reinforced riveted fabric tarpaulins
The roof segments folded on the longitudinal sides of the trailer from the hydraulic mast do not interfere during loading

The roof can be hydraulically opened and closed within ten seconds. This saves valuable time, especially during sudden rainstorms or hailstorms

The driver no longer has to get off the tractor and manoeuvre the roller tarpaulin manually, which often gets caught or tilted in practice. Accidents are avoided

If the hydraulics fail, the lifting roof remains tightly closed, thanks to a clever design trick. The angle of attack of the mast has been changed so that the roof cannot open by itself. It remains tightly closed even at fast travel speeds. Even light cargo can not blow away. Road safety is therefore always guaranteed